The opening rounds of the Australian Off-road championship (AORC) were held at
Golden beach, Victoria over the weekend. The Yamaha MXstore Ballard's Off-road Team
(YMBOT) were amongst the pointy end of the action after nearly a year since the last
off-road race!
There were well over 300 riders entered to contend for the Australian championship
round positions, despite the dusty and challenging conditions. Golden Beach was set in
the thick of the yellow sand and black powder sand, to produce some of the toughest
tracks for the opening rounds of AORC racing.
Danielle Mcdonald led the team by charge on Saturday morning racing the Junior cross
country, for 2 hours! In fine form on her YZ125 she battled with young gun motocross
racer, Taylor Thompson early in the race. Danielle had to push hard to come back to the
lead after a first lap crash. Danielle and Taylor changed positions several times before
Danielle took charge and pulled a solid lead. Danielle claimed the Rnd 1 victory in the
Junior girl's class and finished 14th overall with all the Juniors on track! Building
momentum, she continued to battle for the top step of the podium for Rnd 2 with
Taylor Thompson in the sprints! Danielle took the win by 11.6 seconds over Taylor for
Rnd 2 and another exceptional 14th outright with the stacked Junior field.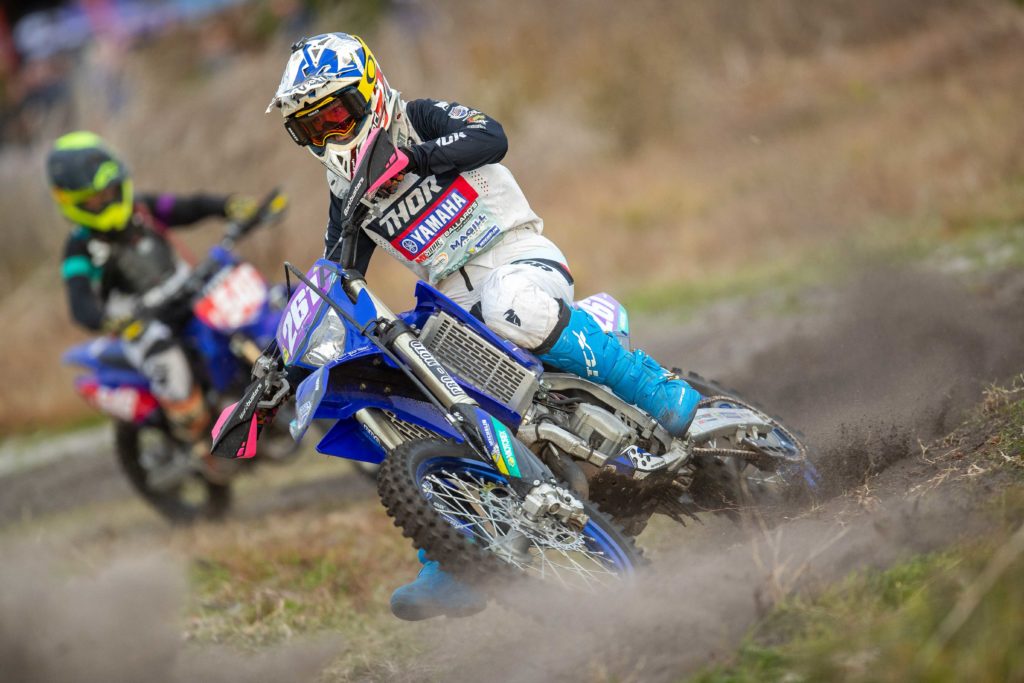 The senior competitor's cross-country format was changed to 'super sprints' due to the
dusty conditions and amount of senior riders on the track at one time. A super sprint is a
really long sprint lap (22km long=approx. 27 minutes).
Jeremy Carpentier rode his WR450F on the rough track unfortunately taking a solid fall
making it difficult to stay with his main competitors for Rnd 1. Jeremy finished a solid
13th outright and 7th in Pro E2. Determined to bounce back for Rnd 2 Jeremy battled
with Stykes and Driscoll all day to finish an exceptional 8th outright and 4th in the Pro E2
class. Jeremy mentioned, "After coming back from a recent popped out shoulder injury,
I was unsure where I would be at for the opening rounds. All in all, I am happy to be
here riding in the tough conditions and am looking forward to another gap in the offroad
calendar to come back even stronger. I have a lot to take away from this weekend
and am looking forward to the next rounds".
Jess Gardiner lead the women's class by storm at Rnd 1 in the super sprints, winning
both sprint laps to take the overall win! Jess finished 57th outright with 151 seniors on
the track!
For rnd 2 in the sprints on Sunday, Jess was still in dominating form winning the first 3
sprints in the women's class! Unfortunately, Jess went down hard in the 4th sprint losing
a bit of time as she nursed herself back to the pits! Jess knew she had some damage
although being still in the lead after the 4th sprint she mentally couldn't justify not
attempting the last 2 sprints. Jess did what she had to get taped up and trial rode the
5th and 6th sprint to salvage valuable championship points. Jess finished 3rd for Rnd 2.
This now leaves Jess as runner up in the Championship with 2 points down from Emma
Milesevic.
We caught up with Jess on Monday afternoon to know what the damage was. Jess'
doctors have confirmed she has a broken left scapula and is now in full recovery mode
to be back for the next rounds! Jess explained, "It was an emotional weekend for me
with so many highs and lows. I was riding so strong after a long time off; it was
rewarding after the training I put into the lead up to this event. Normally sand isn't my
favourite terrain, with training I proved I can be strong in the sand too! Unfortunately, I
crashed hard in the 4th sprint, as soon as I rode in, I knew that I had broken my scapula.
I didn't want to believe it as much as my body told me to stop, I forced myself back on
my WR250F to score that podium spot I deserved.
I am now in full recovery mode to get back 100%. I have a lot of positives to take away
from this weekend and I won't let this small bump on the road stop my momentum
from building".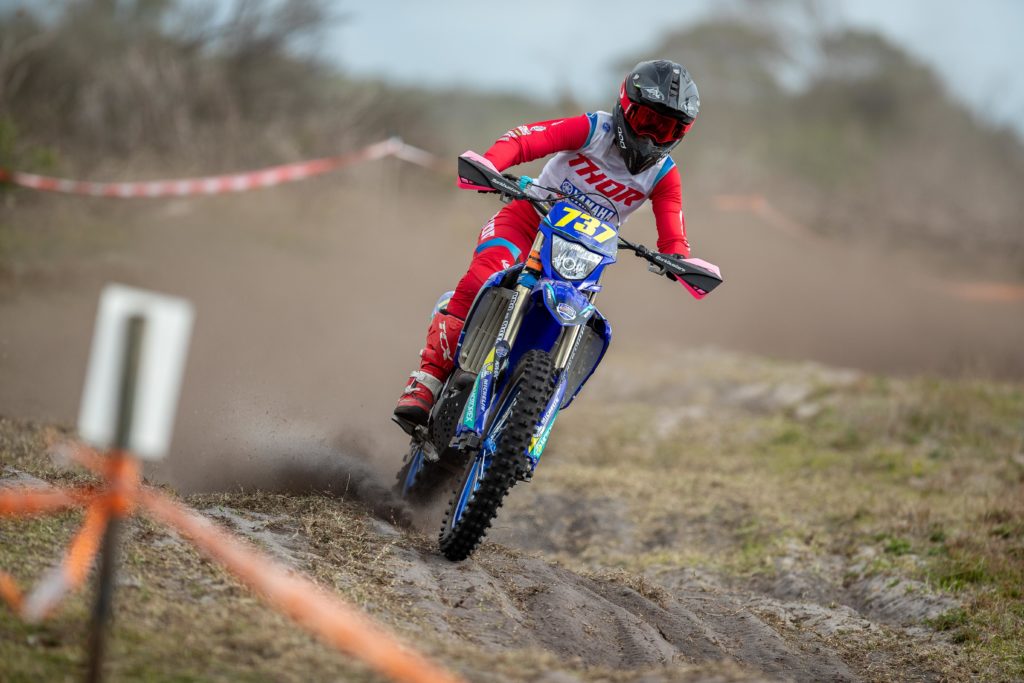 The next rounds of the AORC will be in July at Kyogle, NSW.
The whole YMBOT crew would like to thank all their partners for being a part of their
race program and look forward to many more successful events on the horizon.
The Yamaha MXstore Ballard's Off-road Team will be present at the 2nd round of the
East coast MX championship on the 9th of May at Maitland, NSW.
To keep up to date throughout the year of the team, press releases will be published on
www.jessgardiner.com.au, along with the busy race calendar. Find the team on social
media: www.Instagram.com/yamahamxstoreballardsoffroad
Keep up to date with the athletes via their social media pages for live training and race
news.
Jessica Gardiner:
FB/ Instagram: @missjessgardiner
Jeremy Carpentier:
FB/ Instagram: @jeremycarpentier44
Photo Credit : Foremost Media