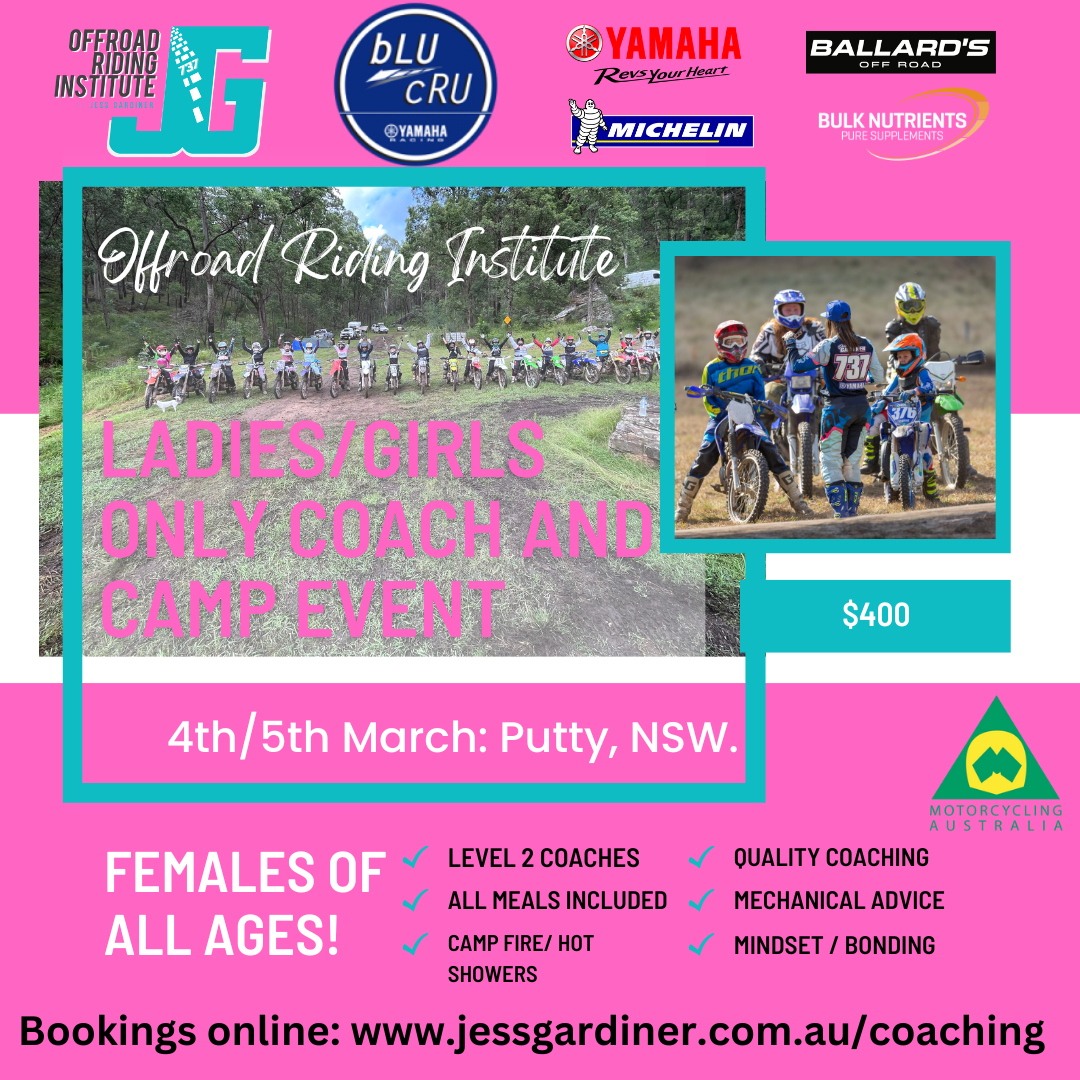 bLU cRU Ladies/ Girls Only Coach and Camp: All ages and abilities!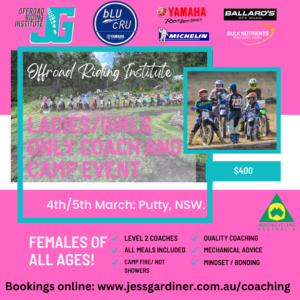 Leave the boys at home and enjoy yourself on a weekend away with the ladies and girls riding. Worried there is something you can't do alone? Don't worry because thats what we are here for! From unloading your bike to advancing your riding skills. Bring your daughter, sister, mum, family member or friend or come alone and meet other amazing ladies and girls riding motorcycles, in a safe and fun learning environment together!
The weekend will cover offroad/ enduro riding skills and techniques, confidence building and much more. Take the next step in your riding and prepare for the 2023 season or improve your riding in general.
There are over 10x different off-road tracks, varying from grass tracks to single tracks and technical tracks. In addition, there are almost 300 acres to mix up the riding terrains and learn new and advance current skills, while eliminating any bad habits along the way.
This event is fully insured and permitted under Motorcycling Australia, so if you are in need of any Junior endorsements for the year, than this is the perfect opportunity.
*All ages of female riders encouraged to come along and participate. All levels and ages will be catered for! If U18 years old, a parent or guardian must be in attendance, mums or dads welcome-extra fee applies for meals.
Don't miss out on a fun and interactive coaching journey to excel your riding, with the help from experienced coaches and professional riders! Book in fast as only limited spots are available!
You will come away from the weekend feeling more confident and with a lot of knowledge passed on.
This event is fully catered for including lunch and dinner on Saturday and Breakfast and Lunch on Sunday. For those travelling afar or are super keen to go, camping is also available Friday night, although dinner/ Sat morning breakfast is not provided.
Limited number of spots available to maximise coaching exposure and experience.
What to Bring:
Camping gear (sleeping bag, pillow, tent, van, caravan or swag)
Camp chair
Motorcycle / riding gear etc
Fuel (+ 2st mixture if needed)
Fresh drinking water
Bath towel
Any snacks or hydration drinks you can't live without
There will be a camp fire on Saturday evening for the Ladies to exchange stories and experiences while getting to know each other more and make more riding buddies.
This is a comfortable, controlled and fun learning environment. Be surrounded by likeminded ladies wanting to progress in the sport that they love too!
Beginners- Advanced females all welcome. The group will be split on the day accordingly in relation to group levels, between the Level 2 coaches. Jessica Gardiner, Jeremy Carpentier and Kristie Mckinnon.
An email will be sent out one week before the event with all final details, address etc.
If any special dietary requirements please let Jess know via email. Can cater for Gluten free, vegetarian etc please let us know though!
Can't wait to see you all there for a super fun weekend with the Ladies!
Scroll down to the bottom of the page to book your spot now!
*Once you have booked, a confirmation email will be sent. An email will be sent on Monday prior to the event, outlining important details and the address of the location etc*
Photography/Video Content:
By participating in the Coaching event you accept that photo and video content of training/ coaching will be used on our appropriate social media channels. By entering this event you accept the use of content. If you wish not to be included in photo or video content due to any reason, please email info@jessgardiner.com.au with event date and your name.
Refunds:
If you require a refund you will forfeit the paypal/stripe booking fee. Legitimate reasons accepted for a full refund minus booking fee up until 5 days prior to the event. Any refunds requested in the last 5 days will be refunded at 75% due to event costs.